By now we hope you are familiar with our new project known as the Caulfield Village.  Comprising approximately five hectares of land located north of the racecourse and adjacent to the Caulfield Train Station and Monash University, our vision for Caulfield Village is to create a vibrant, integrated mixed-use hub with convenient access to public transport, shopping and recreation, designed to integrate with the character and facilities of the surrounding community.
We understand that Caulfield Village is a significant local project and that it is important to keep you informed with what is happening. As the project gets underway we will provide more regular updates on this website.
Who are we?
BPG Caulfield Village is a joint venture between two Melbourne based businesses – BECK Property Group and PROBUILD, both of whom have decades of experience and are proud to call Melbourne home. BECK Property Group enjoys an enviable reputation for quality residential development in Melbourne. Probuild is a national building company born in Melbourne and responsible for several landmark mixed use developments in Victoria. As born and bred locals, BPG Caulfield Village understand and respect the culture, history and diversity of Melbourne.
What is Caulfield Village?
Caulfield Village will ultimately comprise three different precincts offering various types of high quality housing and other complementary uses. It will deliver a range of benefits to the established neighbourhood such as pedestrian and road upgrades, convenient local retail, peaceful landscaped connections, recreation zones and improved safety through greater activation of the streets leading to the railway station.
Caulfield Village is a project we believe will enhance the whole local community. As a local resident, we hope you'll enjoy the benefits of the new facilities and come here to eat, work, shop and relax.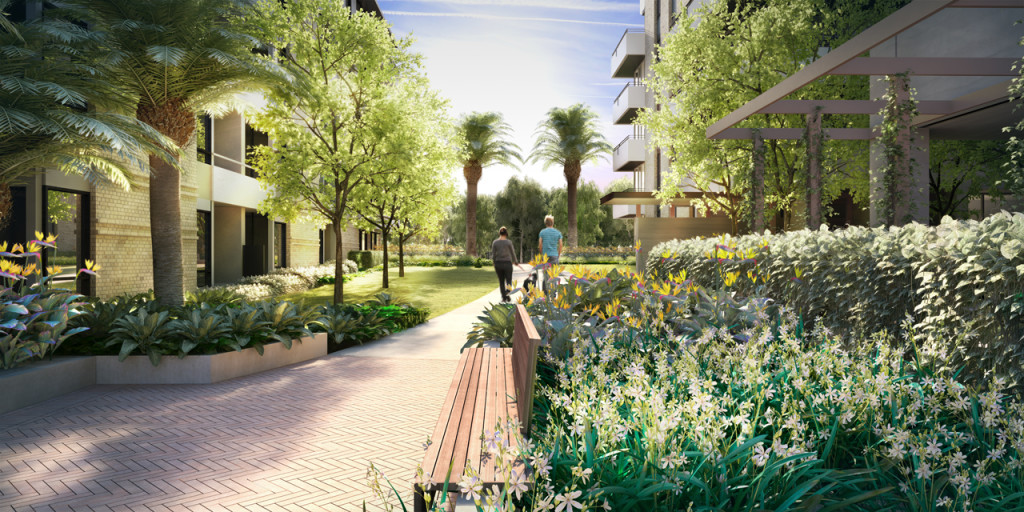 How will it happen?
The project will not happen all at once but via stages to enable us to manage the process more effectively and minimize public inconvenience. Over time you'll notice new amenities and facilities emerging as the project progresses, making it more convenient to accomplish your daily tasks.
The first stage – Caulfield Heath
We're excited to have completed the development plan for the first stage, called Caulfield Heath, and have lodged it with Council.
Caulfield Heath will provide high quality apartments and townhouses in a lush landscaped setting, including a publicly accessible green pedestrian walkway through the site to improve connections to the rest of the neighbourhood.
Broad use of the site has been mapped out by a Planning Scheme Amendment which is overseen by Council. We've ensured that our application addresses all the requirements of the development overlay set down by the State Government and focused our design approach around the provision of new homes that will integrate comfortably into the community, surrounding neighbourhood and streetscapes.
You may already be aware that Glen Eira City Council has begun the community consultation for Caulfield Heath and we support that process. It is important to us to get Caulfield Village right.